Crocus Expo International Exhibition Center was designed and constructed using modern building materials in accordance with the highest international architectural standards. Its core business is holding of large international exhibitions of different profiles with participation of Russian and foreign companies. At present Crocus Expo is one largest and most perspective exhibition grounds in Russia.
In August 2007, the first building, Pavilion 3 (total area exceeds 300,000 sq. m), opened its doors for visitors and guests of the exhibition center. The exterior and interior of Building 3 are in line with advanced trends of construction of buildings for special purpose — to run exhibition and trade fairs.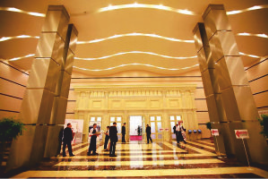 First of all, the building has an underground parking area for 3,300 cars, second, there is an additional parking area on the rooftop of the building (another 2,700 parking slots), third, there is a modern congress hall, Crocus City Hall, for 2,200 seats, equipped with all the necessary facilities to run major inter- national congresses and conferences, concerts or screen movies.
The total area of the new building is 450,000 sq. m. The building's infrastructure includes comfortable conference halls with transformable partitions, VIP class meeting rooms, spacy lobbies, cozy cafes and food courts. Immediately after Building 3 of the Crocus Expo International Exhibition Center was commissioned into operation, it entered the history of the national exhibition business, winning in two nominations of Russia's Book of Records!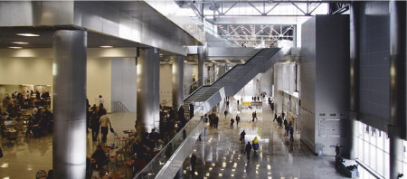 The new building of the exhibition center turned out to be bigger in area that the famous Hannover Messe (Hanover, Germany). Therefore, in the nomination "The biggest exhibition area in one building" Building 3 took the first line in the world rating, because its exhibition area is 394,000 sq. m! In the speed of construction for Crocus Expo, another record was registered: 2,710,000 cubic m of Building 3 were built from September 2006 to August 2007, which is 10 times higher than the previous record in that nomination!
Floor 4 of Building 3 houses 36 transformable conference halls, 162 sq. m each. The conference halls are united in three 3 blocks each having 12 halls, and are divided by mobile soundproof partitions. A unique system of space transformation makes it possible to build premises of different configurations and sizes, to host events for 150 to 5,400 people.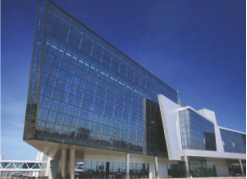 If participants of congress event desire so, the exhibition center will provide all the necessary equipment: to run lectures or presentations or slide shows, monitors, plasma panels, LED screens, microphones, multimedia projectors, slide projectors, audio- and video-recording equipment.
Organizers and participants of exhibitions and trade fairs can use highly reliable international phone and facsimile communications, Internet facilities, duplicating equipment, visa support and hotel booking services. Building 3 of the exhibition hall houses Russia's largest stationary multifunctional hall, Crocus City Hall, for 6,200 seats (the podium is 712 sq. m large).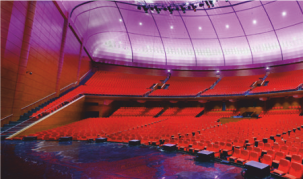 The size of the podium, the equipment available in the hall, its acoustic characteristics make it possible to use the room not only for business events (congresses, conferences, meetings, sessions and other gatherings), but also stage theatrical and musical performances, run concerts and various shows, including televised ones, to screen movies and video films of any format. There are enough auxiliary premises (artists' rooms, makeup rooms, wardrobe rooms), spacy lobbies with cozy cafes and bar, which, undoubtedly, makes the stay or visit in the center comfortable and pleasant for performers and visitors.